As the streets of Toronto come alive with the gentle hum of activity and the signature Canadian politeness, it's hard not to get swept up in the city's inviting embrace. Toronto isn't just a place; it's a living, breathing entity with an ever-evolving narrative. From the rich tapestry of its history to its impeccable dining scene, every experience in this city is worth cherishing. Let's embark on a journey to understand the various nuances of living in Toronto.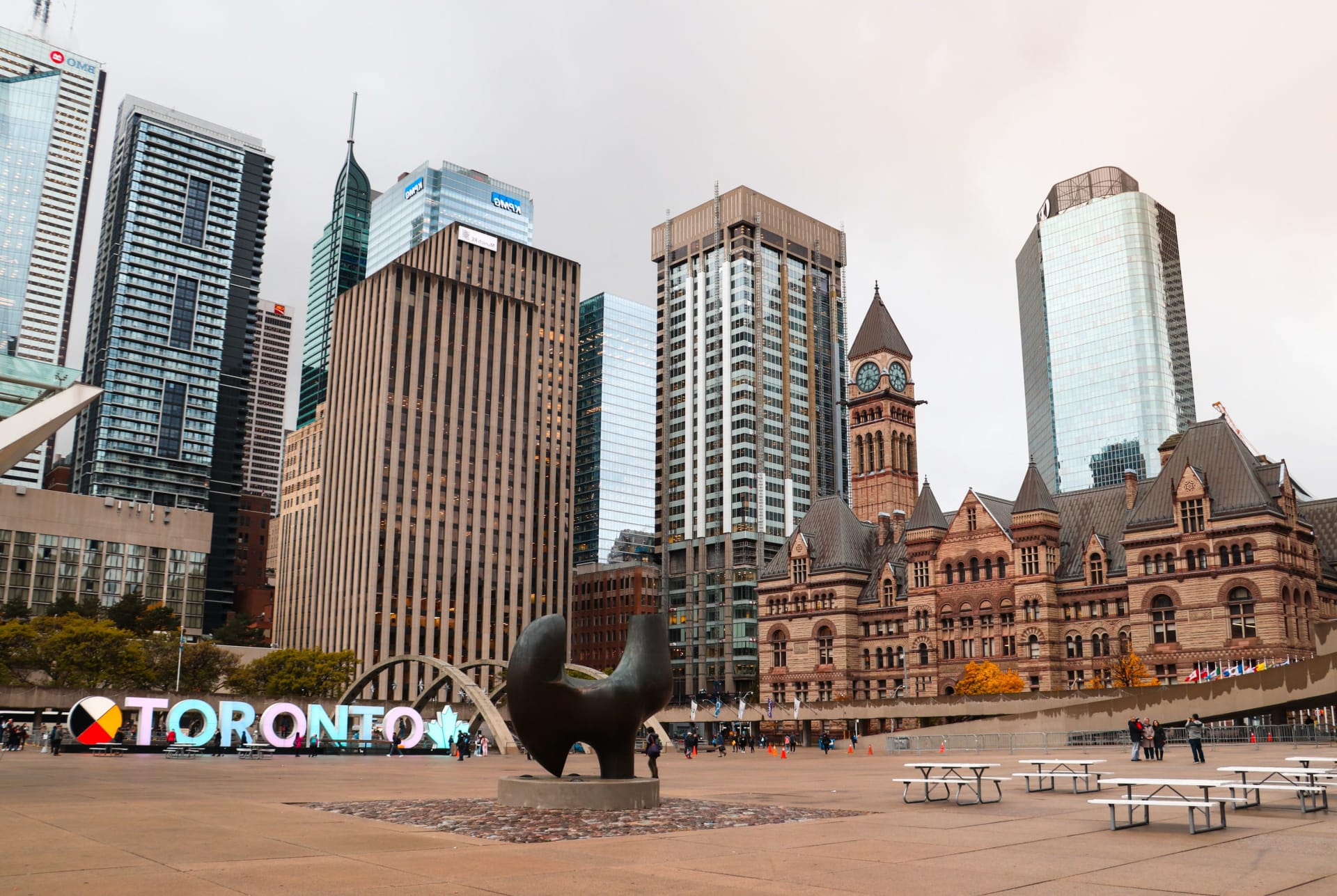 An overview of life in Toronto
What to love
Toronto's history is a testament to its resilience and growth, with tales that would intrigue any history aficionado. Its excellent public transportation system ensures residents move seamlessly around, enjoying the safety the city offers. For the sports enthusiast, Toronto's professional sports scene is a delightful treat. Moreover, for the connoisseurs of life, the dining options and art scene in Toronto are par excellence. And for those who cherish the magic of snowflakes and winter wonderlands, Toronto's winters are enchantingly beautiful.
Potential hurdles
But like every rose has its thorns, Toronto is not without challenges. Its thriving population leads to inevitable urban challenges like traffic and a noticeable cost of living. Moreover, while it offers numerous job opportunities, the competition can be fierce. Summer might not be everyone's favorite season here, and sometimes, amidst the bustling streets, one might sense a lack of friendliness. Not to forget, the ongoing construction is a testament to Toronto's growth but can pose its own set of challenges.
Toronto Weather
Toronto's weather is a reflection of its character - vibrant, unpredictable, and full of surprises. Nestled with a semi-continental feel, the city graces its residents with warm, humid summers while embracing them with chilly winter arms.

The calming presence of Lake Ontario gently modifies Toronto's climate, ensuring warmer winters and pleasantly cooler summers. This dance with the lake also ushers in a summer ballad of humidity, which might feel overwhelming to some. Yet, the snowy embrace during winters, milder than many Canadian counterparts, blankets the city mostly from mid-December to mid-March.

For those curious about the monthly atmospheric moods:


January: A gentle chill punctuated by soft snowfall.
February: The cold persists, but the sun begins to linger.
March: A promising warmth with sporadic snow showers.
April: The bloom of warmth under extended sunny skies.
May: Days that beckon with sunshine and warmth.
June: The zenith of sun-kissed days.
July: The peak of radiant warmth.
August: The warmth continues with a hint of the sun's waning embrace.
September: A retreat of the sun, but warmth prevails.
October: A gentle coolness under shorter sunlit hours.
November: A descending cool with teasing snowflakes.
December: The gentle onset of winter's embrace.
For a deeper dive into the city's climatic nuances,
Toronto weather
offers an expansive understanding.
Toronto Schools
In the heart of Toronto, an educational odyssey unfolds every day. Schools, like glowing beacons, are the sanctuaries where young minds burgeon, dreams take shape, and futures are sculpted. The city offers an enthralling blend of academic traditions and innovative pedagogies, weaving a tapestry of enlightenment, curiosity, and discovery. Toronto schools are not just establishments of learning but nurturing grounds where young souls are embraced, celebrated, and inspired to chase their horizons.
Toronto's Vibrant Lifestyle: Things to Do and Places to Explore
Beyond its real estate market and educational offerings, Toronto boasts a dynamic lifestyle that caters to a wide range of interests and passions. Whether you're an art aficionado, a nature enthusiast, or someone who loves to immerse themselves in the city's diverse cultural experiences, Toronto has something special in store for you.
1. Cultural Marvels
Toronto's cultural scene is nothing short of remarkable. The city is home to world-class museums, galleries, and theaters. Some notable cultural destinations include:


The Art Gallery of Ontario (AGO): A haven for art lovers, AGO houses an extensive collection of Canadian and international art, including works by renowned artists like the Group of Seven and Emily Carr.



Royal Ontario Museum (ROM): With exhibits spanning from natural history to world culture, ROM offers an enriching experience for visitors of all ages.



Theatre District: Toronto's Theatre District, centered around King Street, is famous for its live performances. Catch a Broadway-style show, a thought-provoking play, or a musical extravaganza.
2. Green Oasis within the Urban Jungle
Despite being a bustling metropolis, Toronto is blessed with abundant green spaces and parks that allow residents to reconnect with nature. Some must-visit spots include:


High Park: A sprawling urban oasis, High Park is renowned for its cherry blossoms in spring, serene walking trails, and charming zoo.



Toronto Islands: Escape to the Toronto Islands, a group of small islands just off the coast, for a day of picnicking, kayaking, or simply enjoying the scenic views of the city skyline.



Rouge National Urban Park: As Canada's first national urban park, Rouge Park offers diverse landscapes, hiking trails, and opportunities for bird-watching and wildlife spotting.
3. Culinary Adventures
Toronto's culinary scene is a delightful journey for food enthusiasts. Beyond the restaurants mentioned earlier, you can explore:


Kensington Market: A vibrant and eclectic neighborhood, Kensington Market is a food lover's paradise with diverse eateries, food stalls, and unique shops.



St. Lawrence Market: Discover fresh produce, artisanal cheeses, and gourmet delights at this historic market. It's a foodie's haven where you can taste international flavors.



Food Festivals: Toronto hosts numerous food festivals throughout the year, celebrating everything from multicultural cuisines to local craft beers.
4. Festivals and Events
Throughout the year, Toronto hosts an array of festivals and events that showcase the city's spirit and diversity:


Toronto International Film Festival (TIFF): One of the most prestigious film festivals globally, TIFF attracts filmmakers and celebrities from around the world.


Caribana: Celebrate Caribbean culture with vibrant parades, music, and food during this annual festival.


Toronto Pride: A colorful celebration of LGBTQ+ culture, Pride Week features a parade, live performances, and various events promoting inclusion and diversity.
5. Sports and Recreation
For sports enthusiasts, Toronto offers numerous opportunities to engage in or watch your favorite sports:


Raptors, Maple Leafs, and Blue Jays: Cheer for Toronto's professional sports teams, including the Toronto Raptors (basketball), Toronto Maple Leafs (hockey), and Toronto Blue Jays (baseball).



Golf Courses: Enjoy a round of golf at the city's beautiful golf courses, offering scenic views and challenging fairways.



Toronto Islands Activities: Besides the beaches, the Toronto Islands offer opportunities for cycling, canoeing, and paddleboarding.
6. Shopping Extravaganza
Toronto is a shopper's paradise, with a diverse range of shopping districts and boutiques:


Yorkville: Explore high-end boutiques and designer stores in Yorkville, a chic neighborhood known for its luxury shopping.



Queen Street West: Discover a mix of independent boutiques, vintage shops, and trendy stores along Queen Street West, often regarded as one of the coolest shopping streets in the world.



Eaton Centre: A massive shopping mall in the heart of downtown, Eaton Centre offers a wide selection of brands and retailers for all your shopping needs.
Toronto's Vibrant Lifestyle: Where to Dine and Savour
In a city as diverse as Toronto, dining isn't just a necessity; it's a culinary adventure. Toronto's dining scene is a delightful journey for food enthusiasts, offering a myriad of options that cater to every palate. Here's a condensed look at some must-visit restaurants that contribute to Toronto's vibrant lifestyle:
1. Cultural Culinary Journeys
Mira: Transport your taste buds to Peru at Mira, where traditional Peruvian ingredients meet contemporary twists, creating a unique dining experience that fuses two worlds.



Katsuya: Experience the essence of Japanese cuisine at Katsuya, where every dish is a visual and gustatory delight, reflecting the precision and artistry of Japanese culinary traditions.



Pai Northern Thai Kitchen: Immerse yourself in the flavors of Thailand's northern regions at Pai, where each dish tells a story of spice, texture, and harmony, offering a taste of Thai traditions in the heart of Toronto.
2. Noodle Enthusiasts' Paradise
Mogouyan Hand-Pulled Noodles: Dive into the ancient art of hand-pulled noodle-making at Mogouyan, where each bowl reflects patience, craftsmanship, and passion, offering a taste of Chinese legacy.
3. Italian Elegance and Charm
Gusto 101: Experience the heart of Italy in Toronto's urban jungle at Gusto 101, where rustic charm meets urban chic, and every bite is a serenade to the soul.



Trattoria Nervosa: Beyond its rustic facade, Trattoria Nervosa envelops diners in comforting memories of Italy with freshly baked bread, simmering sauces, and bubbling cheese.
4. Whimsical Dining Adventures
The Rabbit Hole: Dive into a whimsical wonderland at The Rabbit Hole, where boundaries are pushed, the familiar becomes fantastical, and every morsel has a story to tell.
5. Hidden Culinary Gems
Rasa: Explore hidden culinary gems at Rasa, where every dish is an intricate dance of flavors and feelings, celebrating the old and the new, the familiar and the exotic.



Som Tum Jinda: In the lively lanes of Toronto, Som Tum Jinda beckons with an authentic Thai experience, offering a delicate balance of sweet, sour, spicy, and savoury flavors.
These dining establishments, with their distinct personalities, add unique shades to Toronto's vibrant lifestyle. They offer more than meals; they offer moments, memories, and a touch of magic in every bite. So, as you immerse yourself in Toronto's dynamic lifestyle, don't forget to savour its diverse culinary wonders.
Toronto's Kaleidoscope of Lifestyle
Toronto's lifestyle is a kaleidoscope of experiences waiting to be explored. Whether you're passionate about culture, nature, food, or sports, the city offers a wealth of opportunities to embrace your interests fully. It's a place where you can enjoy the best of urban living while immersing yourself in diverse cultural experiences and natural beauty.
As you embark on your journey to discover Toronto's vibrant lifestyle, remember that KK Realty Group, led by
KK Azimisadjadi
and
Sisi Morshedi
, is here to assist you in finding the perfect home in this dynamic city. Toronto's rich lifestyle, combined with its real estate opportunities, makes it an exceptional place to call home.
About KK Realty Group
KK Realty Group, under the guidance of KK Azimisadjadi and Sisi Morshedi and affiliated with the prestigious Harvey Kalles Real Estate, boasts over 70 years of combined expertise and celebrated a stellar $4.5 billion in real estate transactions in 2021, encompassing a heartfelt journey from home building to property management. If you're looking to buy or sell a home or have any questions about
Toronto homes for sale
, contact
KK Realty Group
today.

*Header photo courtesy of Unsplash